ThreadSafe is available as a plug-in for the Eclipse IDE. Developers can find and explore issues within the IDE, where bugs are easiest to investigate and fix.

The plug-in includes ThreadSafe analyses and their documentation, and provides rich information about the issues found, such as relevant locations and locks held.
Easy installation: Install ThreadSafe from an Update Site
No configuration required: uses existing project sources, class files and libraries
Prioritize and fix bugs according to their severity
Access to all IDE features helps you investigate bugs efficiently
Rich information about findings including relevant guards and locks
Rule documentation via the Eclipse help system including suggested fixes
Watch a screencast
Demo part 1

Demo part 2

ThreadSafe for Eclipse Demo, part 1
This video shows ThreadSafe for Eclipse being used to find concurrency bugs in Jetty: a web server with support for Java Servlets.
The bug discussed in this video was reported to the developers and fixed.
ThreadSafe for Eclipse Demo, part 2
This video continues our investigation into Jetty, and uses the guard inference feature in ThreadSafe to diagnose a different, and more complex bug.
This bug was also reported to the developers and fixed.
Screenshots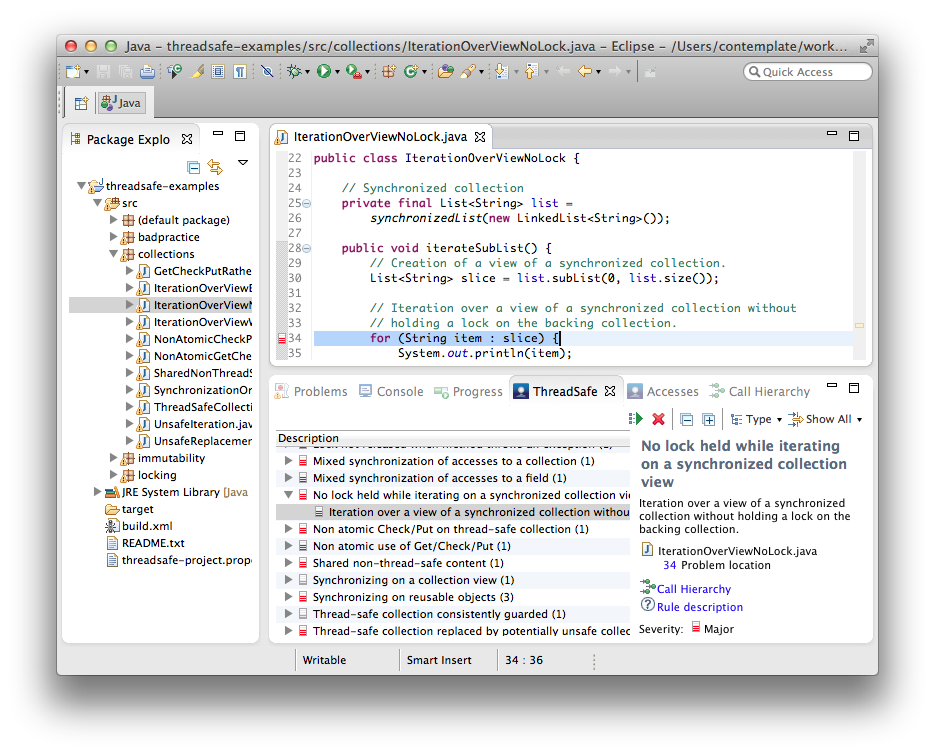 ThreadSafe view